QUEENOFDANCE ADDS TO WINNING FAMILY
Queenofdance, reined by Overport Lodge reinswoman Sam Ottley, and Lets Hustle, driven by Stephen McNally, provided a rare quinella for the Mark Jones stable at Rangiora on Sunday, July 7.
Winner Queenofdance is the second winner from her unraced dam Mary Niven to race and win for the Overport Lodge team.
Queenofdance follows Rocknroll Nevin, who won twice for the Jones-Ottley combo in her three-year-old racing.
Rocknroll Nevin added a four-year-old win when for Westport co-owner Robert Higgins when he prepared her to dead-heat with Clarendon Falcon at the Westport meeting in March last year.
Queenofdance, a three-year-old daughter of fast USA racehorse, A Rocknroll Dance (p2, 1:49.2, 1:47.4), notched her second win in 17 starts for her West Coast owners on Sunday.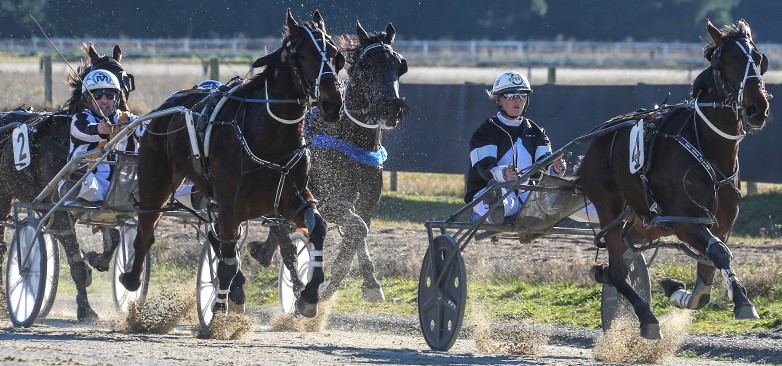 Left parked early, she wrested the lead from favourite Officialdon at the 1800m, then trailed from the 1400m.
She finished too well along the spring late, holding stablemate Lets Hustle, who from last in a packed field at the 600m, closed well after improving sharply four wide turning for home.
Queenofdance, rewarded for consistency in her latest racing, paced the mobile 2600m in 3:15.6 (2:01 mile rate), the leaders pacing their last 800m in 59.1s and 400m in 29.5s.
Raced by the Patsy Marie Syndicate, she's a fourth-line descendant from the mare Patsy Marie, a smart filly in her day.
She won the 1980 Methven Two-Year-Old Stakes at her second start, beating smart boys of the era in Bionic Adios and Foroux.
Patsy Marie also won the Roydon Lodge Fillies Stakes at two at Timaru, beating No Excuse Royal Stroll and Times Up.
At three, she ran second to Take Care in the Fillies Triple Crown Classic at Addington.
The late daughter of Schell Hanover also won at Greymouth at four, for three wins in 32 starts.
Her best winning foal was Priceless Franco (2:00.1), who won 12 of 48 starts in Australia for $52,330.
Both Queenofdance and Rocknroll Nevin are from a sister to notable ex-Kiwi Australian winner, Ellis Rose (1:53.9, 10 wins & $91,021), both being by Courage Under Fire from Lyse Doucet, as is brother Malone (1:56.3, two wins).
Other smart winners from Lyse Doucet (Holmes Hanover-Patsy McCreedy) are Sniggihdis (1:55.9, 10 wins & $45,141) and Liberty Rose (1:55.6, seven wins & $89,162).
Liberty Rose, by Mach Three, was sold to race in Perth after only four NZ starts for the Mark Jones stable.
She ran second to Miss Ethel Sunshine in a Magness Benrow Sires Stakes Fillies Heat at Addington, then won her maiden at Roxburgh mid-way through her three-year-old racing.
Liberty Rose has subsequently been exported to North America. She had her sixth start there on Tuesday (NZ time), running fourth in a $23,000 fillies and mares pace at Yonkers, won by Demi Hill in 1:53.
Lyse Doucet (unplaced in both starts) also left useful NZ winner Booster (1:58, seven wins).
Her dam Patsy McCreedy (Bo Scots Blue Chip-Patsy Marie), won three, and left five individual winners, including smart types, Brooksdale Pal (1:56.2, five wins), Padraig (1:55.2, US, five NZ wins, 14 USA wins) and White Star Rocky (two NZ wins, 11 Aust. wins & $79,729).
Queenofdance gets a chance to add to the family record in the Betterthancheddar At Alabar Mobile pace at Addington on Friday.
However, she will start form the eight barrier, against stablemates, Immortal Change (barrier four) and Lets Hustle (barrier five), over the mobile 1980m distance.