STRONG FAMILY TIES WITH LATEST WINNERS
The Overport Lodge stables of Mark Jones have racked up their 30th and 31st domestic victories for the season at Forbury and Addington on July 18 and 19.
My Design, a Mach Three half-sister to the capable Twice The Delight (1:52.3, Aust; 11 wins & $67,832), and three-win trotter Bet Online, won at just her second start.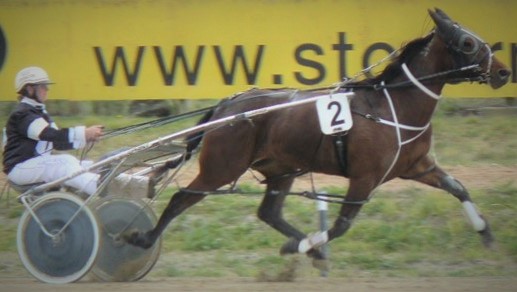 The win was satisfying as her path had been hindered by several issues.
Sam Ottley drove a perfect race with My Design, leading early from the seven draw, then trailing Absolut Russian.
The pacemaker was headed turning for home with Sam encouraging My Design to an inch-perfect finish along the sprint lane.
My Design nosed out plunge debutante, the Steven McRae-trained Leap Of Faith, who moved up parked over the final lap for Craig Thornley.
The winner, raced by the 3 Peg Investments Pty Ltd, paced the 2200m (stand) in 2:52.4, with the leaders last 800m in 58.6s and 400m in 28s.
My Design enhanced her broodmare potential with the win, being from a four-win Holmes Hanover mare Trelise (1:58.7, 1700m) from top broodmare Twice As Good (1:56.5, 1700m, five wins).
Twice As Good, a Butler B G half-sister to 1980's North American trail-blazer Pacific (p3, 1:53, winner of the 1987 USA 3YO fillies Breeders Crown, Mistletoe Shalee & American National), is the dam of nine individual winners.
They include Mark Dennis (1:53.9, Aust, 43 wins & $306,317), St Barts ((1:57, 15 wins & $162,506), Waitfornoone (1:55.7, 11 wins & $201,804), Fight Fire With Fire (1:56.1, seven wins & $151,657) and Double Shot (1:57.9, six wins).
Another Twice As Good winner, Twice As Hot (1:59.6, five wins) is the In The Pocket dam of two-time Interdominion Final placegetter, Flaming Flutter (1:53, 23 wins & $789,015), whose wins include the 2016 South Australia Cup and South Australia Derby.
Flaming Flutter was the runnerup to Beautide in the March 2015 Menangle Inter Dominion Final, and third in the December 2015 Perth Inter Final to Lennytheshark.
Goodlookinggirl, a Christian Cullen daughter of Twice As Good, won once from only five starts, but has made her mark at stud with her first four foals to race, all winners, including top filly/mare, Elle Mac (1:51.6, 12 wins & $607,678).
Another Twice As Good daughter in Twice As Great has left the former Allstars pacer, Duplicated, who has taken a 1:49.2 (fifths) mark in North America on a five-furlongs (1000m) track this year.
Duplicated, by Somebeachsomewhere, has added $US117,350 to his career earnings in America this year.
Immortal Change, a bargain buy from another illustrious NZ family, notched her third career win and second Addington win in the $50 All Up July Challenge for junior drivers.
Olivia Thornley, recording her ninth career win, extricated just enough from Immortal Change, despite playing the iron mare in the open over the last 1900m in wet winter conditions.
Immortal Change, a four-year-old daughter of former NZ Cup winner Changeover, didn't flinch at the end of a strong 2600m, won in 3:17.1.
She ran to the front at the 450m and after going clear turning for home, held a late finish from the Regan Todd-trained King Of Heroes (Mark Hurrell) by half a neck.
Lets Hustle, the Overport Lodge stablemate of the winner, rallied solidly from four back on the outer for third for Korbyn Newman.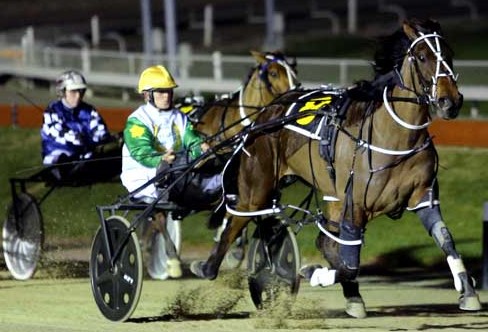 Immortal Change, from a qualified but unraced Falcon Seelster mare Arma Phoenix (grand-daughter of champion mare Armalight), has now won $38,600.
She won her first two races for Ashburton owner Grant Smith, but trainer Mark Jones joined him in the ownership of the mare a week ago.
Immortal Change's maternal family has been starring internationally in this year.
One of his relatives, None Bettor (1:48.4, fifths), has been in sensational free-for-all form, winning nine of 11 USA starts for the year for $US205,770.
He comes up against Mcwicked in the $US260,000 feature at Saratoga, New York, on Sunday (NZ time).
Although Australian-bred, None Bettor is from a three-win NZ mare in Limerick Star, by Christian Cullen from four-win mare Lils Dream (1:55.7, time trial).
Lils Dream is by Smooth Fella from Miss Denover, the latter being an unraced daughter of Boyden Hanover and Ar Miss (NZ Sapling Stakes & NZ Oaks), the eight-win dam of 1981 NZ Cup and 1982 NZ Harness Horse of the Year, Armalight (1:55.4, mile rate, 2000m, 18 wins & $277,520).
A fifth-line descendent of Armalight in the 2013 Northern Derby winner, Ohoka Punter (1:52.4, 27 wins & $1.1 million), returned to form winning with a Group One feature on July 13.
Now nine, Ohoka Punter, took out the Sunshine Sprint at Albion Park, Brisbane, in a 1:53.2 rate (1660m), in his first win since October last year.
The family fortunes were lifted earlier this year by Miracle Mile winner Spankem (1:47.7), a front-runner for NZ Harness Horse of the Year honours.
Spankem, a fourth-line descendant of Ar Miss, has taken his record to 13 win from 32 starts for $1.1 million after also winning this year's Taylor 4YO Mile and NZ Messenger for the Purdon/Rasmussen stable.
Another descendant of Ar Miss produced Australasia's fastest three-year-old miler, Muscle Factory (1:49.6), in January.
Muscle Factory erased Border Control's Australasian mile 3YO record of 1:50.6 when he paced a brilliant 1:49.6 when winning the Group Two Simpson Sprint at Menangle.
A colt by Roll With Joe, Muscle Factory is from Malena (by Jereme's Jet-Miraculous Miss, by Presidential Ball-Mistron, by El Patron-Ar Miss).
Muscle Factory, a winner of seven from 14 starts for $266,255, won this season's Victoria Derby before going amiss in the NSW Derby.