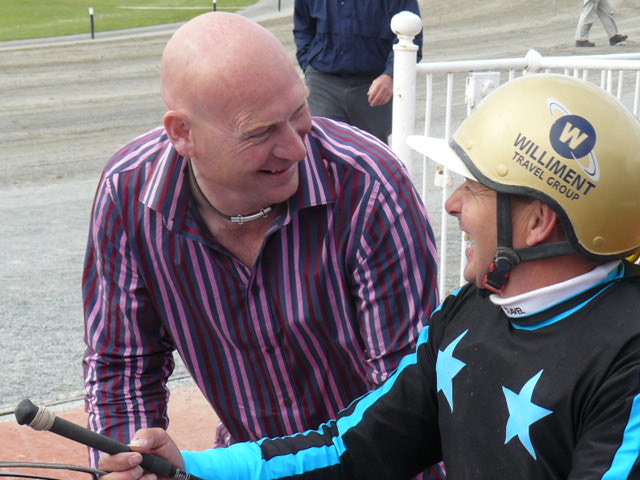 After success for Elite Racing at Ashburton today, well-bred filly Fancy will head south next week with a couple of mates to tick off a run in Southland as Benny and Mark chase the Southland Oaks.
"I don't think it's worth chasing Amazing Dream up north," said Benny Hill after her Ashburton win.
"So she can tag along with Silent Major and Burnham Boy who will head down for the $15,000 Nugget Final next Friday," he said.
The Bettors' Delight daughter of Regret (by In the Pocket) is a sister to handy pacers Bedtime, Mundaka, Natural, Excellent, and Ragnarr.
Birchbrook Breeding Ltd, namely David and Catherine Butt, along with Steve Hooper, have had great success out of the family through the deeds of second-dam Going Royce, a filly and mare they raced, leaving a bunch of winners.
Regret, a five-time winner, is a full-sister to former top-class Grand Circuit pacer Tribute who won $402,000 and 16 races for Peter and Joan Cocks out of the Tim Butt stable.
A raft of winners came from Going Royce, Never Going Holme, Pentium, Coolmore, Birchbrook, Midnite, Corbell, Hoon Hay, Victory, and Pushkin, all winners but not matching the success Tribute had.
Corbell has gone on to leave quality pacer Micky Gee (1:52 USA) and Anytime, currently three wins.
"She (Fancy) can head down just for a grade race and we're a step closer to ticking that box for the Southland Oaks, hopefully," said Benny.
"I'll head down with the three. Silent Major came through his win (at Wyndham last Sunday) nicely, and Ricky (May) likes the feel of Burnham Boy (who ran well Cup day from a bad draw).
"Fancy's owners (Kevin, Tony, and Ray Hickman, and Snow Reardon) are happy with that and the Southland Oaks I think is the better path for her."
Sioux Princess was also successful for the Elite Racing stable at Ashburton, the enigmatic mare again slowly away from the standing start but she proved too powerful with a good turn of speed to reel them in and win, her third from 26 starts.