Star filly wins first race as a mare in NSW
Former star two-and-three-year-old filly Delightful Memphis found the winning feeling again at Goulburn last Sunday when she was successful in the $A19,000 Goulburn Rose, furthering a good record for Mark Jones' team offshore.
Caretaker trainer and driver Ashlee Grives had to punch her out hard from gate one to hold a slender advantage into the first turn, but once in front she dictated play and dashed away from the 400m to win very easily, a striking 26.5 final 400m split at the end giving nothing a chance.
'Betty' ran a staggering 2:39.7 for the 2240m, rating 1:54.8 to win by more than four metres.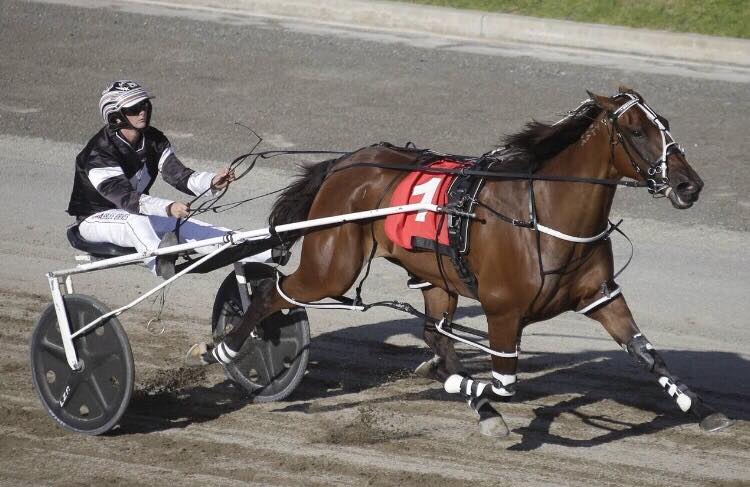 It had been a bit over seven months since the daughter of Bettor's Delight and Memphis Memlody had won a race, Mark in the bike that night at Albion Park in a lead-up to the Queensland Oaks races.
She was beaten into fourth in both the Provincial Oaks and Queensland Oaks, then spelled with Sydney horseman Aaron Goadsby before he jogged her up and sent her across to Grives to prepare for the new campaign.
"Very pleasing to get her back winning again," said Mark.
"She's come up well, hadn't had any luck with barrier draws in four runs after the spell, but had still gone a great race each time, placing on each occasion. We were pretty hopeful when she drew one at Goulburn.
"Though, we got there by our toenails (to lead) on the first bend. Gladly, she held the top and after that a bit too good."
Both Delightful Memphis and Mark's other top class mare Rocker Band now head to the heats of the Ladyship Mile and he hopes he can qualify both for the rich final at Menangle.
"There are always a number of good mares about but the race seems a bit more open this year," he said.
Delightful Memphis is owned with a majority share by breeder Wayne Higgs, and is joined in the thrill by former New Zealand cricketer and now world-leading cricket commenator Simon Doull, Peter and Deborah Smith, and Sir Loins Ltd, Kaysan Farming Ltd, and BJ & JH Holdings.
Life Lavros nearly added another stable win on Tuesday, going under by just a nose at Menangle in 1:54.7.