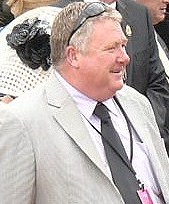 Based on her formline Plutonium Lady should never have been paying $1.35 to win her maiden at Winton.
But Mark Jones knew better than anyone those odds were probably a fair reflection of her chances, a 27.8 final 400m with the hood still on and driver Blair Orange unmoved quite solid proof.
"She has always impressed me. A filly that I liked a lot from the start," said Mark.
"I think the way she won shows what she can do. We're hoping this will lead to her being up to the better fillies later in the season and the Oaks and races like that are within her range.
"For now she will have a wee break and back for the Ladyship final in Southland."
Mark's knowledge of the family was far from a first-hand look – he'd also trained half-sister (Wahs) Fire Bug for owner-breeder Robert Famularo and knew her capabilities.
"Robert didn't get Fire Bug through the sales for some reason and he sent her to me to get going with a view to selling. She won first up (also at Winton, running a 1:55.3 mile) and she was sold soon after to Australia."
Fire Bug was bought by Sydney owner Scott McDonald who has raced a number with good success, included among those Hail Christian and the promising Tom Martin out of the Paul Court stable.
The Mach Three filly would go on to win a further four races for McDonald and trainer Peter Hanson before a recent spell, rating 1:52.2 for the mile to win among three other Menangle victories. She also placed third in the G3 South East Oaks at Albion Park behind Princess Tiffany.
Sorting out the sales catalogue was Mark's job for owners Grant Hatton, Michael Jones, and Jim Haines and he was taken by Plutonium Lady given the family had rarely been to Bettor's Delight, but with success before.
"The family had really only been to Bettor's twice and left Malak Uswaad and Chicago Bull – that was a good reason to be keen.
"We've had a good run with the same ownership – Grant, Michael and Jim have bought Squire (on-sold to Australia, 13 wins), Plutonium Lady, Finnigan (2yo winner in Australia), and the latest an Art Major colt out of Zenable.
"And we bought the Bettor's Delight filly out of Safedra ($100,000) at the sales this year," said Mark.
"They usually buy a colt in Australia every year (including Squire and Finnegan)."
Plutonium Lady's dam Timeless Perfection (Christian Cullen) was a rocket herself, winning her first three race day starts for trainer Brendon Hill and Famularo, five of her first six starts, and six of 11 before heading to Australia for an interrupted campaign of just two starts in November-December 2011.
"Robert is always going to get good results as he breeds from the good mares he has, and they are good mares," said Mark.
"Stonewall Stud bought the Somebeachsomewhere filly this year," he added.
Auckland's December carnival is off the radar for Plutonium Lady but Mark will have her ready for the classics later in the season, a time of the year he expects the big filly to show her very-best.
"Races will be scattered for her – not over-raced at all."