It was decided Stylish Memphis was to stay on with Mark Purdon and Natalie Rasmussen for the remainder of the season after her stint with them in Australia, culminating in a brilliant victory in the $A200,000 NSW Oaks at Menangle.
Ironic really, with Mark having two runners in tonight's Nevele R heat at Addington and the hardest to beat being Stylish Memphis, a filly he knows only too well.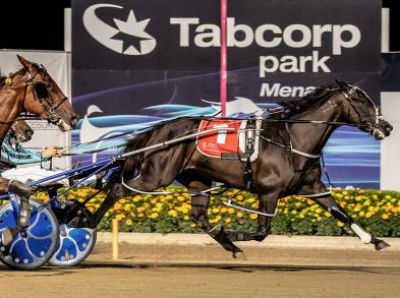 "Mark being able to drive her as a continuance of that Aussie trip was the major reason (with Ricky May unavailable until next season), apart from the obvious reason they just do such a good job with these good horses," said Mark.
"Tim Williams drives her this week while Mark and Nat have a wee spell themselves."
Mark Jones is pleased with his fillies, Plutonium Lady, which he drives, and Lulu Le Mans, to be driven by Craig Thornley for the suspended Sam Ottley but admits beating Stylish Memphis looks a longshot.
ADDINGTON, FRIDAY, MARCH 13
RACE 4 PLUTONIUM LADY (2, fr, 1980m mob) Mark Jones, and LULU LE MANS (8) Craig Thornley -"Pleased with Plutonium Lady since she's been home after a very good run in the Northern Oaks. She draws to lead and looks a very strong place hope at least again. A poor draw for Lulu, she's not benefitted from winning an earlier heat and now wide under the preferential. Place best."
RACE 6 SHADOW PHANTASY (4, fr. 1980m mob) Blair Orange -"He's had a freshen up since last running and went very good that day. May need this but he's a good follower of speed and a top three chance."
RACE 8 BURNHAM BOY (6, fr. 1980m mob) Mark Jones -"Good win in Cheviot Cup and I expected him to only improve off that run. Meets a good field, no doubt about that, but he has stepped up when asked before. Place chance."
WYNDHAM, SATURDAY, MARCH 14
RACE 11 WILLISON (12, fr. 2400m mob) Robbie Close -"Back off a break and he seems well. Good trial leading in and a chance to win this if things went his way, I think he's up to these on class."
BANKS PENINISULA, SUNDAY, MARCH 15
RACE 3 BRING BACK LEAH (6, fr. 2000m mob) Glenys Chmiel -" She raced quite good at the Coast and due to break through soon. Glenys gets the drive with Sam suspended this weekend and she's thrilled to be on as she is her favourite horse at the stables and loves driving her. And, Glenys is in red hot form."