A hot week for the stable got even better when Majestic Lavros took out the Group 3 at Kaikoura yesterday – Mark's third Group 3 success in five days after taking the Soutland Oaks -Southern Supremacy double at Ascot Park.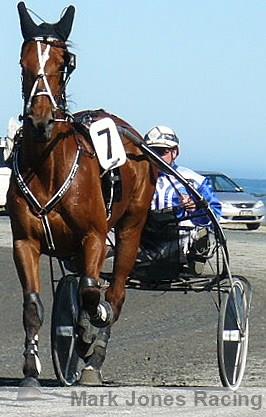 If a Cup week statement was to be made then Majestic Lavros had to turn up and give his best performance in his final chance to stake a claim for Group One glory.
The highly talented trotter was always a Dominion contender in Mark Jones' eyes, but he needed to prove that at Kaikoura yesterday if he was to convince others his opinion was right.
Stepping up to plate, the son of Majestic Son was brilliant in running a race and track record in leading throughout to take the Group 3 Majestic Son South Bay Trotters Cup and now sits among the top few to win the Group 1 on Show Day.
Beautifully handled by regular driver Sam Ottley, the Kypros Kotzikas-owned gelding was having just his 18th start in securing win six and his place in the Dominion, a race Jones and Kotzikas have twice teamed up to win with former champion trotter, half-brother Master Lavros.
"I knew before the race that he was good enough to be in the Dominion. I guess he just had to let a few others know that he was good enough," said a delighted Jones.
"No pressure on us going into the Dominion. We're not really expected to win it and we'll go along and give it a good crack. I do think he's the right sort of horse to be there, on the day we'll find out if he's up to it."
Majestic Lavros trotted the 2400m from a stand in a staggering 3:00.10, shaving a tenth of a second off Stent's former record set in 2015.
"He's not a Master Lavros, but every time I ask him to step up a little bit more he does. He's had his wee issues along the way like most trotters do but right now I think he's probably trotting as good as he ever has.
"I had to sort a couple of things out after that late gallop at Addington (two starts ago when relegated after winning) and he has not looked back since. It's great for Kypros to have another horse good enough to run in the big races and I'm sure he won't disappoint us too much next week."
Majestic Lavros has had his odds slashed by bookies in the Futures book for the 2020 Dominion Trot, opening at odds of $67.00 now all the way into $9.00 as he sits the second favourite at that quote behind Sundees Son at $2.25 who galloped when making his claim at Kaikoura.