At the time it was nothing more than a joke, but fast-forward 12 months and Mark Jones is quite happy it wasn't taken that way.
That's because if Scott Phelan had known that Mark was joking when he asked about the Burnham horseman training thoroughbreds, there's a high-chance that Phelan The Power might have made his way to another South Island stable.
Standing in the stabling block at Addington Raceway one night, Phelan enquired about Mark's foray in the thoroughbred world with galloper, Mistletoe. He asked about taking on a gelding by Power that he owned alongside partner, Emma Anderson, his parents Scott and Sue Phelan, Teagan Edwards, Paul Green, Dom Devitt and Bernadette Smith.
"I jokingly replied that I was getting serious about training them and Scotty said he had one that he'd send down to me.
"I said that if you wanted to send a horse down to the South Island that Terri Rae was the stable you wanted to be sending them too and didn't think too much more of it, until about 10 days later when the transporter pulled up the drive and this chestnut galloper walked off the float."
Having tested the waters a little in the dual-code way of life, Jones called on his previous mistakes and used them to his advantage when it came to training the horse who had previously been with John Bell.
"I think John thought he was going to Terri Rae's because he was sending her pictures and videos of the horse while all the while he was at my place.
"Luckily, I'd learnt not what to do with them through my other galloper and we just started working with him slowly."
Phelan The Power came south having raced on seven occasions for a win and a couple of minor placings. He'd shown ability and if Mark could untap some of the talented tucked away there, the chances of grabbing a couple of wins down on the Mainland looked good.
Mark gave the horse four starts last season before the nationwide lockdown hit. He ran sixth first up and then produced two fifths and then a third at Timaru – showing a bit of promise and looking capable of stepping up over the 1200m distances he'd been racing at.
"He'd done most of his racing up the 1200m mark but training him with the pacers he's perhaps got a bit stronger and is getting over more distance now and he looks like a nice wee stayer."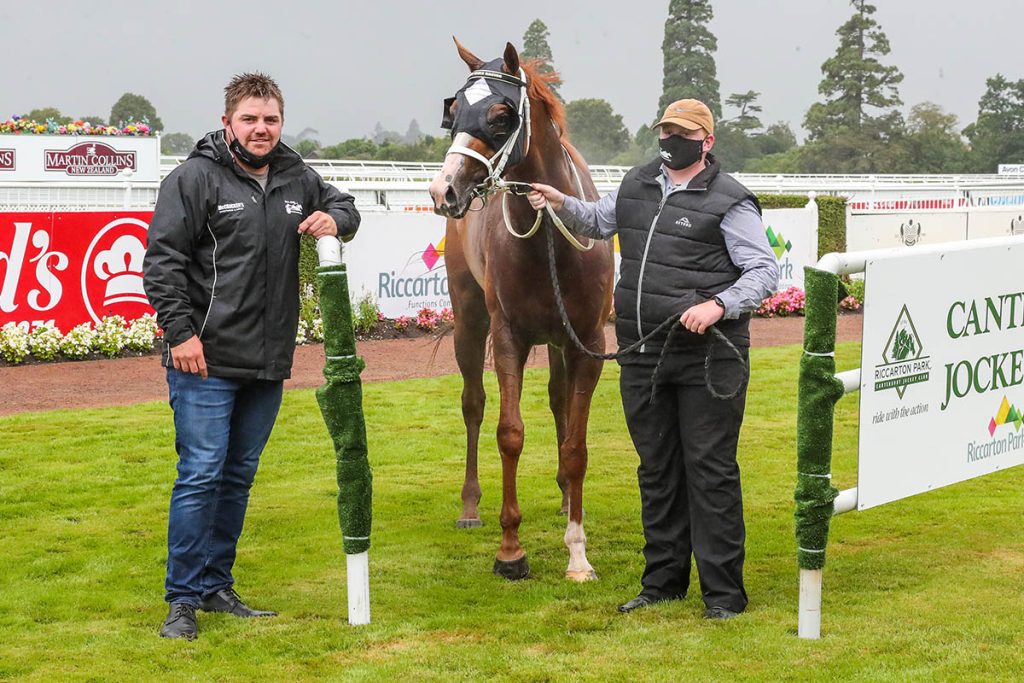 Mark gave the now four-year-old one trial on the Riccarton synthetic before kicking off for the new season and he showed real promise with an excellent fourth on Melbourne Cup Day at Wingatui.
Since then, he's never been further back than second in five starts – winning twice and three times finishing runner up. The most recent of those victories came earlier this month when he showed all his fighting tenacity to pick himself up off the canvas under Chris Johnson to win at Riccarton.
"It was a really brave performance, he's getting stronger and tougher as time goes on – and having a guy like Chris in the saddle is a huge bonus, he can really lift one. He got headed and I thought second was going to be out lot again, but somehow Chris urged him back to the lead just in time to get to the winning post first."
In six starts this season alone, Phelan The Power has now won $52,000 – an impressive fact that isn't lost on Mark when he looks around the stable at his standardbreds.
"He's won about $70,000 all up now and has only won three races. There are pacers here that haven't picked up that much money and they've won eight races.
"It's great fun the gallopers, it's a good challenge to compare them to the pacers as well. I've learnt that you don't need to necessarily work them as hard.
"I'm lucky though, I've got the good staff here at home and had a lot of help from people like Rachel Deegan, Danny Crozier, Jason Laking and Chris Carmody."
Phelan The Power will head to the Riccarton meeting this coming Friday looking to continue his great run of form and his trainer is certain that the fun isn't finished yet for the stable and his band of owners.
"He's only a wee fella, but he tries like buggery – he won't be finished winning yet I don't think.
"The only problem is that he's the only galloper in the barn that I don't own myself."
With three winners on the board and eight placings from just the 29 runners to the races, that's another joke from Mark that might end up turning out to be a good one to make as well.