After a winning double post the lockdown quick trotting mare Sioux Princess is looking to extend that to three on Sunday. Mark offers her chances and the others racing this weekend.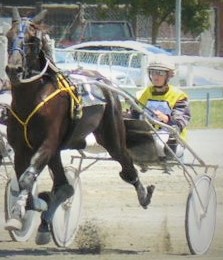 ADDINGTON, FRIDAY JUNE 12
RACE 1 KOWHAI SUNDOWN (13, U4, fr. 2600m stand) Sam Ottley -"We were going to give this week a miss after a couple of trials and two races. But he's ome through so well, eaten up, so we'll go again given the 2600m is more suitable to him. Racing good and hoping for some luck."
RACE 6 LA ROSA (1, fr. 1980m mob) Ricky May, Major Wilson (5) Sam Ottley, Artatac (9) Jim Curtin -"I've pulled out a couple to leave is with three. The other two haven't done as well earlier this week. La Rosa is probably the best one of them if I leaned towards one of them. She's a progressive filly, not screwed down yet but she will do a good job. Major Wilson should go a nice race, improving out of his trials, a bit weak yet but a nice type for later. Artatac is a big horse, still filling out but pleased enough with his trials and worth him having a run this week." They are all horses on the way up and will be much the better next season.
RACE 8 UBER EXPRESS (6, fr. 2000m stand) Sam Ottley -"Thrilled with her last week. Regan has done a great job with her on the beach. She is unsound but a smart filly. Hopefully she can back up here, the stand start perhaps an issue but hoping she steps cleanly and she could win again."
ADDINGTON, SUNDAY, JUNE 14
RACE 7 SIOUX PRINCESS (14, U2, fr. 1980m mob) Sam Ottley -"Great to get a penalty free win last week, Sarah drove her very well. Thought about having the week off but the 1980m mobiles are her thing and the way she's trotting you really need to go around and find out. If she keeps that form up she could win again. Would like to drive her colder as she does have very high speed."