"No secret I'd love to have her spot on for that race"
By Stu Bailey
New Year 2020 did not exactly begin the way the harness racing fraternity had hoped.
On that long, drawn out day at Omakau on January 2 the worry of an industry, and a nation of racing supporters, surrounded the health of one of the greats of all time, Ricky May.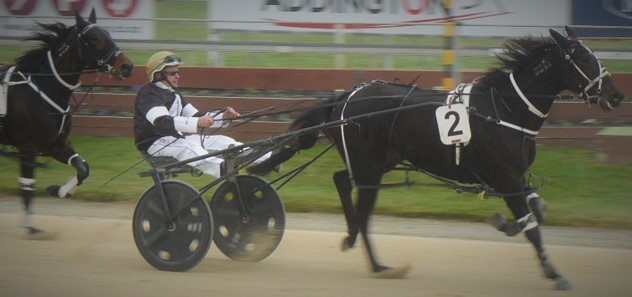 May had fallen ill during the running of the Central Otago Cup, the flagship race of the day, and collapsed in the sulky with over a lap to go when driving one his favourite horses A G's White Socks.
Shock hit the racing industry, the scenes initially broadcast live as the race was soon abandoned, and May, not in good shape, was airlifted to hospital after receiving extensive medical help on the track.
May's ultimate bounce back to full health has been the number one story in harness racing this year bar none, his mojo well and truly back as he hits his best form again in search of win 3000 of his career – now a handful away from that great milestone.
Winning that Central Otago Cup in 2021 would be the ultimate. And Mark Jones has bypassed a crack at Group 1 glory to concentrate his efforts on achieving that dream. On Monday, Stylish Memphis returned to work and though there are bigger goals in mind, this race, to be run again on January 2, is the one he wants.
"No secret I'd love to have her spot on for that race for Ricky," said Jones.
"There are other races we are obviously concentrating on but that one is high on the agenda, not monetary wise or anything, just because it would be fitting if Ricky was able to win it. Hopefully, we can provide him with the right horse to do that."
Jones wasn't keen on a trip to Auckland for the Queen Of Hearts, even a sly look at the Auckland Cup, in December. Chasing the All Stars up the country was not something that made a lot of sense as he plans out the next few weeks and months for the brilliant daughter of Bettor's Delight and Memphis Melody.
"Following Amazing Dream up the road to Auckland, and considering we would also have to race Self Assured, Spankem, Copy That and co in the Auckland Cup – it just wasn't an option, or lets say the right option, right now," he said.
"There are still some good races coming up for her, the Green Mile at Methven, a Free-For-All at Addington pre-Christmas, and then the Omakau race. Also, the Northern Southland Cup and premier mares race at Addington later in January so it is not like we don't have a few races to choose from.
"Think she will enjoy tagging along with the rest of the team on the trip to Central Otago this year. She can flop around on the grass track at Cromwell and do her work without fuss and enjoy her Christmas and New Year like the rest of us."
Stylish Memphis ran her final mile in 1:53.6 on Show Day, November 13, in going down very late to a flying Vintage Cheddar over 1980m after backing up from running third in the Group 1 Nevele R Final behind Amazing Dream three days earlier, also in scorching time.
She was at owner Wayne Higgs' property the next day and a little tired, but soon bounced back to her best with a belly-full of rich new grass and resumed jogging with Higgs on Monday before she joins Jones again this weekend. He will prepare her for a possible start in the $17,500 Green Mile on December 13 in Ricky May's hometown of Methven.