Winton treble for Jones the trainer… and driver
Mark Jones finished off 2017 in fine fashion, training and driving three winners in the wet at Winton.
While training winners – and plenty of them – is nothing new for Jones, driving them kind of is.
Yes, he's a former World Champion with over 1400 wins in the bank as a reinsman, but he has virtually flagged that part of his career in the past few years.
"I'd be lucky to have three drives a season now," said Jones, tongue firmly in cheek.
In reality he has now had 45 drives through five months of the season, which is well down from the heady heights of his 976-drive season in 2007-08.
His three winners were all very impressive and included two promising three-year-old fillies in Tres Vite and Smoke N Reactor, who both won maidens from the front.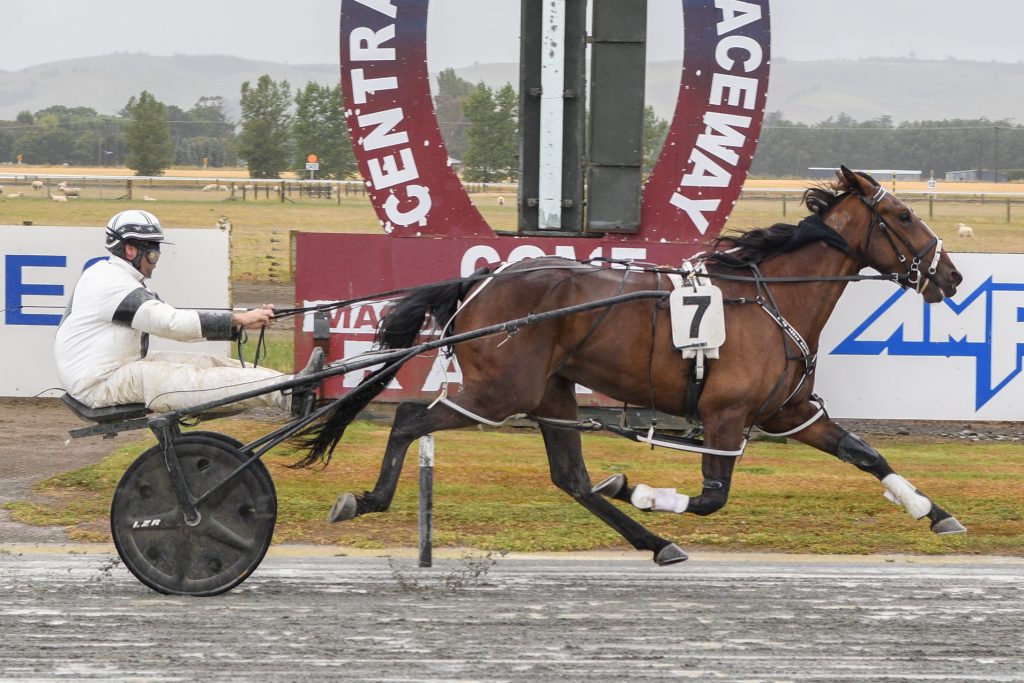 Tres Vite won by five lengths in stylish fashion at what was just her third career start and first outside of Canterbury.
"She was unlucky first up at Addington but then disappointed me the next time out.
"She got in the right race this time – dropping to the lower-graded maidens is always helpful.
"I've always thought she's a nice maiden and, being by Bettor's Delight, she will only get better.
"I think she's probably good enough to win two or three here quickly and then the owners are interested in sending her to the Sydney stable to race.
"Hopefully she keeps improving in the meantime and I can set her for a race like the Southland Oaks."
The win of Tres Vite wasn't going to be easy to top, but Smoke N Reactor probably did just that.
The daughter of Auckland Reactor led early but was worked over relentlessly by outsider Fun Sponge.
Once shaking that mare off, Smoke N Reactor surged clear under persuasion from Jones and rated a tasty 1.58.6 mile-rate on what was an off track.
"I drove her for her speed, but I didn't really want a hard run like that," said Jones.
"She's a good, genuine, filly and it looks like the Auckland Reactors will keep getting better.
"Plus, she's out of a good mare that won 10 (Smoke N Mirrors)."
Jones says Smoke N Reactor is another one that will likely land 'across the ditch' as the season wears on.
"She will probably race here for six months and then end up in Sydney."
Completing the hat-trick was well-travelled three-year-old The Bus, who worked round to the parked position and out-muscled The Big Boss down the straight in a rating 60-80 mile.
"He's just a really good racehorse.
"He has gone some bad ones but he is genuine and is one I thought a bit of as an early two-year-old.
"It just goes to show how good the good three-year-olds are because he cannot compete with the best ones.
"He is probably third tier, but he can comfortably beat the intermediate grade pacers."
The Bus was born in Australia out of the New Zealand-bred mare Rondel Franco, who was well-performed in America and repatriated back here before being on sold to Aussie interests.
He is, therefore, eligible for a few Australian series' and Jones is keen to tackle one or two of them later in the season.
"We'll come back south for the Southern Supremacy Stakes then head over to Sydney for the New South Wales Breeders Challenge in June or July, which he is eligible for."
Jones and stable worker Tony Stewart are on a two-week Otago/Southland working holiday with a sizeable team and will race on this week before heading home to Christchurch, and then up to Nelson.
"We brought nine down on Christmas Day and will stay for two weeks
"They thrive down here; Phil Williamson swears by it and he's not wrong.
"There are good opportunities for horses and lots of meetings.
"Most of the team will have one or two more starts down here this week before we head home and then it's straight off to Nelson."
– NZ Harness News