Fresh off two super runs at Addington in July where he placed, then won, quality four-year-old Willison has picked up an injury and will likely not be seen on the racetrack again this year.
The Bettor's Delight gelding had returned in sparkling form, charging home into third first up off a spell with Ricky May in the bike on July 10 behind stablemate Burnham Boy. He quickly followed that up with victory on July 24 with Sam Ottley the driver, beating That Alexander Guy and Franco Niven over 1980m, rating 1:55.7 in coming from last to outsprint them.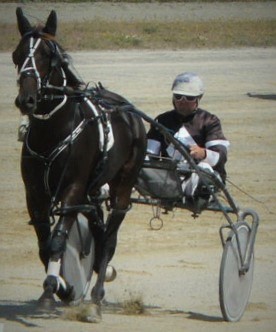 The son of former quality race filly and mare Classical Art (5 NZ wins, 13 AUS wins) is on the rehab list until as far out as Cup week in Christchurch, so his racetrack return will not likely be until well into 2021.
"He was so well, maybe too well and gave his leg a bang in the paddock and has some bruising on the tendon so he's out for a good six weeks," said Mark.
"We will then scan him again and see how he is. If it's 12 weeks and not six, so be it. Hoping it comes right sooner rather than later.
"It's very annoying, he will miss the major races in Australia (Breeders Crown, Vicbred Series) but the horse comes first and if he stays sound he has the ability to be a very nice horse in the future."
Willison has won four of just 13 race starts in New Zealand after being brought out the Melbourne APG Sale from breeders Scott and Kathy Robertson by Mark for a number of long-time stable clients.